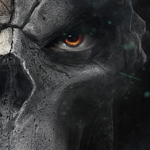 About...

I thought that as my 1600th edit I will write a few words about myself. I am from Poland as you can see I originally came from S.T.A.L.K.E.R. wikia which explains my I am... statement. I am a friendly person and always try to assume people act in good faith. Sometimes it is difficult but most of the times one can just see a good deed only that in a form of inexperienced edit.
Why do I spend my time here?

Truth be told I don't know. I liked Darksiders to some greater degree, the game gave me that same warm feeling that I had when PSX (PS1) was nearly the only console on the market and one could play Medievil, Crash Bandicoot, Croc, Spyro the Dragon and many other genre-similar titles. I haven't felt this sensation in years and hell...I liked it. One more thing, the art of Joe Mad is just well... Mad. He is and incredible artist and I enjoy his work very much. Therefore, I guess this means that this game deserves a proper wikia.
Areas of my activity

All. Literally I edit anything that needs it. From regular edits, pass by making redirs and renaming pages down to making/editing templates and taking care of visual output.
Drop by!

Since for some unknown reason our wikia is not that popular and activity here is minor be sure to drop me a quick Hello if you ever wind up here.
Important note

If by any chance You, dear reader are in possession of The Art of Darksiders please leave me a message on my talkpage!
My quick links
Edit
Favorite page #2
Favorite page #3
Community content is available under
CC-BY-SA
unless otherwise noted.