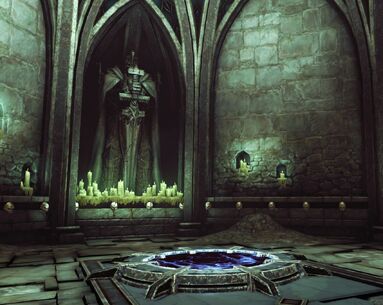 The Soul Arbiter's Maze is a dungeon in the Kingdom of the Dead. It consists of 10 waves of enemies similar to The Crucible. After each wave Death has to follow different directions, otherwise the player will never find the portal to the next stage or exit the maze. The directions can be found on scrolls throughout the realms. At the centre of the maze, is the Soul Arbiter himself.
Notes
[
]
Its completion is required in order for the quest The Chancellor's Quarry. However, it is not necessary to have begun the quest to complete the maze.
The Death Grip ability is required to enter the maze.
You can fast travel to any level of the Dungeon you've completed, by selecting it in the Mysterious Book before entering the portal.
Directions
[
]
Level I: Declination
Route: North – West
Secret: South – East
Level II: Apprehension
Route: East – South – North
Secret: North – North
Level III: Opposition
Route: West – East – North – North
Secret: North – South – East
Level IV: Separation
Route: East – West – North – South
Secret: West – East – North
Level V: Deception
Route: West – West – North – East
Secret (Black Demise) West – North – South
Level VI: Isolation
Route: South – East – East – North – North
Secret: East – East – East – South
Level VII: Revulsion
Route: South – West – East – East – East
Secret: South – South – West – North – North
Level VIII: Inversion
Route: North – West – North – West – East
Secret: North – South – South – East – North
Level IX: Benediction
Route: East – North – East – North – South
Secret: South – West – East – East – North
Level X: Ascension
Route: West – East – North – South – West
Secret: North – South – East – West
Rewards
[
]