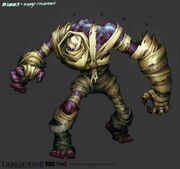 Mummies are enemies featured in Darksiders II.
These Monsters reside in the Kingdom of the Dead and are encountered in a few dungeons. They resemble the Wicked in both appearance and threat level. They are weak, stupid, and attack by slashing at you with their claws.
They are extremely weak and can be instantly executed.