The Legendary Talismans covered here have a set level and set attributes for them that wouldn't be found in normal talismans.
Blade Master Talisman lvl: 9
[
edit
|
edit source
]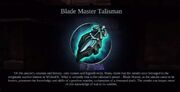 "
Of this amulet's creation and history, only rumors and legends exist. Many claim that the amulet once belonged to the enigmatic warrior know as Wicked K. What is certainly true is the talisman's power-Blade Master, and the amulet came to be known, possesses the knowledge and skills of a peerless warrior, a champion of a thousand duels. The amulet can impart some of this knowledge of war to its Wielder.
— In-Game Description
"
Blade Master - Unlocks all moves in the game.
Death Tomb in the Forge Lands. (By the entrance to The Lost Temple)
Demonheart Talisman lvl: 14
[
edit
|
edit source
]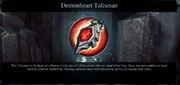 "
This talisman is the heart of a Demon Lord, one of Lilith's rivals who ran afoul of her fury. Now, his once-ambitious heart rewards whoever holds it by infusing common items with devouring spirits, increasing their value.
— In-Game Description
"
Demonheart - Whilst equipped, white weapon drops will instead be Possessed Weapons.
Death Tomb in the Kingdom of the Dead.
"
A maker known only as The Mad Smith forged this talisman using the arms and armor of slain warriors from the Dead Plains. Grim, as the talisman was named, was crafted to distill and concentrate necromantic power from the Abyss. The Grim Talisman makes any weapon wielded by its owner build Reaper Energy with every successful attack.
— In-Game Description
"
Grim - this ability allows Death's secondary weapon attacks to gather Reaper energy, and drastically increases the amount of Reaper energy gained by successful scythe attacks.
Reward for completing the Shaman's Craft quest for Muria.
Heartstone Talisman lvl: 11
[
edit
|
edit source
]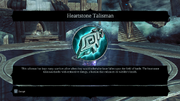 Main article: Heartstone Talisman
"
This talisman has kept many warriors alive when they would have otherwise fallen upon the field of battle. The heartstone talisman throbs with restorative energy, a bastion that enhances its wielder's health.
— In-Game Description
"
Health: +100
Rewarded after completing wave 1-25 in The Crucible.
Hoardseeker Talisman lvl: 18
[
edit
|
edit source
]

"
The Demon merchant Vulgrim discovered Hoardseeker within a long-forgotten tomb in the Dead Plains. The talisman he found had an inexplicable link with all of Creation, able to unerringly draw uncommonly valuable treasures to its owner. Whenever the bearer of this talisman slays an enemy, there is a small chance that a powerful item will appear.
— In-Game Description
"
Hoardseeker - Upon killing an enemy/opening a chest, there is a rare chance of obtaining rare, powerful items
Death Tomb in the Lostlight.

"
The Keen Talisman Sharpens blades beyond a razor's edge, enhancing the lethality of any scythes wielded by its owner.
— In-Game Description
"
Scythe Damage + 11%
Found inside Boneriven, located in the Sentinel's Gaze.
Community content is available under
CC-BY-SA
unless otherwise noted.