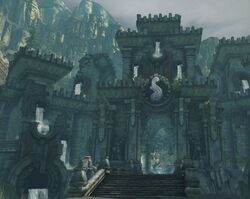 The
Drenchfort
is a dungeon found in the
Forge Lands
. The
Makers
of the settlement of
Tri-Stone
use the Drenchfort to control the flow of the "Tears of the Mountain", a pure, clean, ice-cold river which runs through their land and is used by their artisan blacksmiths for quenching during the creation of powerful weapons, armour, and tools.
Karkinos
makes her lair, here.
[1]
References
Edit
Community content is available under
CC-BY-SA
unless otherwise noted.