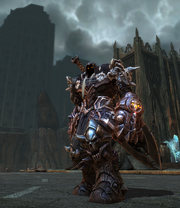 The Abyssal Armor is a set of armor that can be found in Darksiders, Darksiders II, and Darksiders III. In the first two games, it is the most powerful armor set.
Darksiders
Edit
In Darksiders, it drastically increases War's defensive abilities, making enemies deal less damage and gives life upon all attacks, like a stronger version of Bloodthirst. The Abyssal Armor is broken into ten pieces which have been scattered all around the game world, from Scalding Gallow to Eden. As you face the Destroyed City - gathering them all and forging the Abyssal Armor is not essential to completing the game, but presents an additional challenge for players wishing to play more content. Please note that Abyssal Armor is not the same as the original design for War's armor. Also, it should be noted that if you manage to collect all 10 pieces during your first time through, you are given the option, when starting a new game, to use the full set of armor right from the start. If one decides to do so, one will get 500 Souls from each chest in which an Armor's piece would have been.
Pieces and locations
Edit
Video walkthrough
Edit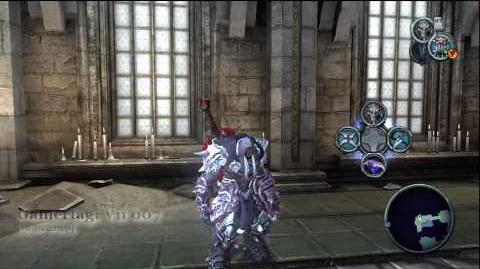 A video showing the locations of all the pieces.
Darksiders II
Edit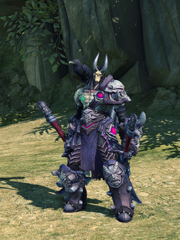 There is an Abyssal Set for Death in Darksiders II. Just like in the first game, it is broken into pieces, but each piece is individually equippable and greatly increases Death's Strength, Defense, Arcane and Crtitical Chance stats. When worn together, they produce even greater effects. However, players should still be cautious when facing elemental attacks (Notably Argul, who has the possibility to kill Death with one Hit using his Heavy Staff Slam if the Resistance Stat is too low), for the Abyssal Armor does not increase Death's Resistance Stats, making him vulnerable to Elemental attacks.
Pieces and Location
Edit
Darksiders III
Edit
In Darksiders III, Abyssal Armor can be retrieved by Fury after completing the Keepers of the Void DLC.[1]
The Abyssal Spaulders in Darksiders 2 are the only piece of equipment to affect Death's head, adding horns.
In Darksiders 2, the Abyssal Armor set pieces level with Death, growing stronger as he does. It is the only armor set to do so.
The Abyssal Armor worn by War in the first Darksiders bears a close resemblance to early concept art of War.
References
Edit