"
Forged in secret by the Mad Smith shortly after they swore an oath of allegiance to the Charred Council. Each Horseman's armor was specifically fashioned to enhance their power and innate abilities. The armor was hidden away and meant to be used for the eventual end times...
— Fury's armor description.
"
The Abyssal Armor is a set of armor that can be found in all Darksiders games. It is one of the most powerful armor sets. 
The Abyssal armor was forged for the Four Horsemen of the Apocalypse by The Mad Smith in anticipation of the end war as their ultimate armor, most were hidden away by The Charred Council and their forces, others were stolen by demons, some were simply lost and never found. Throughout each of their adventures the Four Horsemen are able to acquire the armor via one method or another, and in each case the armor represents their ultimate war gear.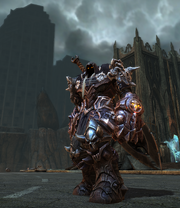 In Darksiders, it drastically increases War's defensive abilities, making enemies deal less damage and gives life upon all attacks, like a stronger version of Bloodthirst. The Abyssal Armour is broken into ten pieces which have been scattered all around the game world, from Scalding Gallow to Eden. As you face the Destroyed City - gathering them all and forging the Abyssal Armour is not essential to completing the game, but presents an additional challenge for players wishing to play more content. Please note that Abyssal Armour is not the same as the original design for War's armour. Also, it should be noted that if you manage to collect all 10 pieces during your first time through, you are given the option, when starting a new game, to use the full set of armour right from the start. If one decides to do so, one will get 500 Souls from each chest in which an Armour's piece would have been.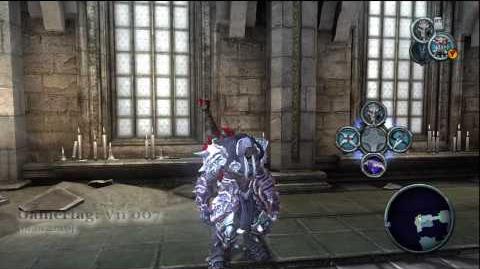 A video showing the locations of all the pieces.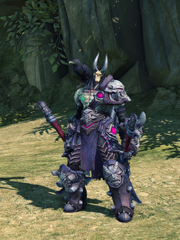 There is an Abyssal Set for Death in Darksiders II. Just like in the first game, it is broken into pieces, but each piece is individually equippable and greatly increases Death's Strength, Defence, Arcane and Crtitical Chance stats. When worn together, they produce even greater effects. However, players should still be cautious when facing elemental attacks (Notably Argul, who has the possibility to kill Death with one Hit using his Heavy Staff Slam if the Resistance Stat is too low), for the Abyssal Armour does not increase Death's Resistance Stats, making him vulnerable to Elemental attacks.
They most likely scale and level with you as you level like the Chaos Scythes. I just got the boots, I'm level 21, they're also level 21. Don't have to wait till NG+ to wear them. Edit: they do. My lvl 21 boots went to 22, and I'm wearing the body armor at 22 that this says is level 30. First time I saw these armours on here i wasn't going to bother if i didn't manage to get all the collectables for any of them. Since I didn't plan on playing NG+... This was really misleading on when you can wear this set. The only one you can't get until NG+ are the Spaulders, since you need to be 25 for the last part of the crucible and you can't lvl over 22 in the first playthrough.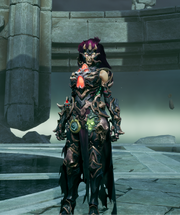 In Darksiders III, Abyssal Armor can be retrieved by Fury after completing the Keepers of the Void DLC.[1]
Angered beyond reckoning by Vulgrim for tricking her in massacring the inhabitants of the Serpent Holes on his behalf the demon is narrowly able to bargain for his life by gifting Fury this armor.
The armor dramatically enhances all of Fury's stats by a significant margin, and in New Game+ the armor can be made more powerful by Ulthane through the use of Oblivion Ore.
+10% Physical and Arcane Damage
+10% Physical and Arcane Damage Reduction
+90 Health Regeneration per Minute
+10 Amount of Wrath Bar Generated
+45% Physical and Arcane Damage

+40% Physical and Arcane Damage Reduction

+220 Health Regenerated Per Minute

+30 Amount of Wrath Bar Generated
Both War and Strife can unlock Abyssal armour sets throughout their journey hunting Lucifer. Each set has been divided into five separate pieces and scattered across five different levels, each piece will require the use of items the Horsemen have found later in the game to acquire. Both sets come with a new interchangeable cosmetic skin, increase your health for their corresponding character and gives a permanent stat boost and a extra Wild Major Creature Core slot once you've found all five for each character.
https://www.youtube.com/watch?v=5Eh1gfjFVuQ
Conqueror Armor Pieces Guide
[
edit
|
edit source
]
https://www.youtube.com/watch?v=Ku06SkzX4g4
The Abyssal Spaulders in Darksiders 2 are the only piece of equipment to affect Death's head, adding horns.
In Darksiders 2, the Abyssal Armour set pieces level with Death, growing stronger as he does. It is the only armor set to do so.
The Abyssal Armour worn by War in the first Darksiders bears a close resemblance to early concept art of War.
War's Abyssal Armour in Genesis and his armour in Darksiders have minor differences from one another for reasons that have yet to be explained.
Community content is available under
CC-BY-SA
unless otherwise noted.